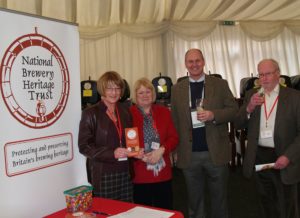 The National Heritage Brewing Trust (NHBT) had a strong presence at the prestigious International Brewing Awards (IBA) festival of beer.
Held at the National Brewing Museum, in Burton upon Trent, the IBA bought together brewers from around the world to judge 953 entries from 199 breweries  and 50 countries
It is the oldest international brewing awards, known within the industry as the "Oscars" of the brewing industry and the only one judged only by commercially practicing brewers.  A number of NHBT directors were at the festival and they took the opportunity to discuss the work and objectives of the trust and why it deserved the support of the brewing industry.
Pictured, from left: NHBT trust directors Valerie Burton and Janet Dean, hop supplier Charles Faram's managing director Paul Corbett and NHBT director Harry White.