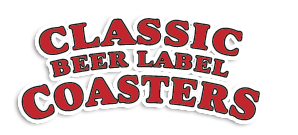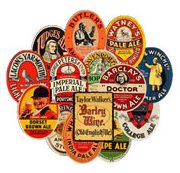 NBHT offers this special collection of over 250 pre-war beer labels with superb graphics in the form of solid highly polished laminate coasters. These coasters will enhance your bar, patio area and coffee tables. They make ideal presents for all occasions with the minimum order quantity being 4 coasters. Some customer comments are "They make good unusual presents, first class product", "Top quality. worthy of displaying", "Great repro, good value", "Better than I expected, good quality product!.
For an extra £2.50 you can add a solid wood composite display rack.
Click on the label collage to see the full range
Click the PDF icon to download the entire catalogue of labels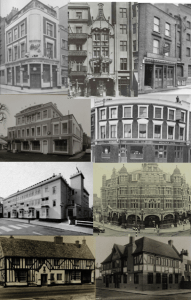 The collection of former Charrington & Co pub pictures is now available for sale from the National Brewery Heritage Trust. As there are over 2,300 pubs across many different areas of the country and over 7,500 images, we intend to operate a personal approach to such sales to make sure that you get exactly what you are looking for.
To select the pub you are interested in, please look through the attached spreadsheet HERE which provides pub names in alphabetical order along with location details, no of images, type of images and also what we believe to be the best image. Then use this link to commence email dialogue as to your requirements.
pubpictures (@) nationalbreweryheritagetrust.co.uk
All pictures will be supplied in cardboard backed envelopes or cardboard tubes. Frames are not provided as everyone has different tastes!
Any picture from NBHT
Retail Price (Incl. VAT)
Size Information Below
 Silk Paper
 Stretched Canvas
A4
297×210
 £17.00
 £60.00
A3
420×297
 £24.00
 £78.00
A2
594×420
 £33.00
 £97.00
A1
841×594
 £47.00
 £125.00
A0
1189×841
 £65.00
 £150.00
Digital Images for personal use only*
£15.00
* For any other use please ask for prices using the email link above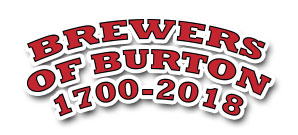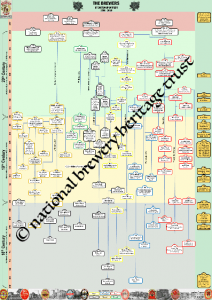 Pictured left is the newly updated Brewers of Burton in family tree format. It shows clearly how the many brewers of Burton since 1700 were taken over by, or merged with, other brewers of Burton to form the major companies the town boasted at one time. Copies are available direct from the National Brewery Heritage Trust using this link pubpictures (@) nationalbreweryheritagetrust.co.uk and quoting "Brewers of Burton".
The poster style print comes at size 700 x 500mm only and is delivered frameless in a cardboard tube. (Frames are available from The Range – other stores are available!). Copies cost £8.00 plus £5.40 post & packing.