Coasters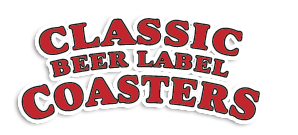 NBHT offers this special collection of over 250 pre-war beer labels with superb graphics in the form of solid highly polished laminate coasters. These coasters will enhance your bar, patio area and coffee tables. They make ideal presents for all occasions with the minimum order quantity being 4 coasters.
For an extra £2.50 you can add a solid wood composite display rack as shown in the first item below.
To order, simply click on the item you wish to acquire and you will be presented with a screen that allows you to specify how many of each item you wish to buy, then add it to your cart. If you wish to select further items either use the back button or use the search to the right of your screen. Repeat the selection process until you have reached at least the minimum 4 items. When you have completed your selections go to the "Cart" icon at the top of the page, review your order and if satisfied go to "Proceed to checkout".

Showing 1–15 of 276 results