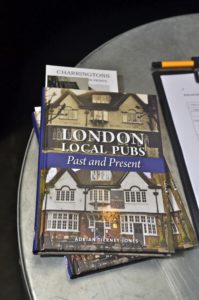 London Local Pubs: Past and Present is a new book written by award-winning pub writer Adrian Tierney-Jones, which contains many historic, once at risk, photos of 52 pub, in the London area, has just been published.
London Local Pubs: Past and Present includes a selection of some of the finest pictures from a stunning collection, not seen for more than a quarter of a century, some dating back to the Edwardian period at the start of the 20th century, which has now been digitised and put online.
And it could all have been so different, as in the late 1980s, the entire collection was only moments away from destruction.
The collection's saving started in the late 1980s, when NBHT trustee Robert Humphreys, who then worked for Charrington's brewery in East London, rescued the photographs, which had been thrown into a skip.
Humphreys arranged for the photos to be donated and sent to the Bass Museum in Burton (Now the National Brewery Centre), where the pictures were safely stored.
In 2014, the National Brewery Heritage Trust (NBHT) working with Historypin and Heritage Assets began the project to digitise the historic photos with the intention of making the collection available to online researchers and to anyone who wanted to commercially use the images.
The on-line collection includes more than 3,500 images, dating from the Edwardian period to the 1970s, which depict more than 1,250 pubs from the now long gone Charrington. While many of these pubs survive and prosper under a range of new owners, others have been lost to WWII bombing or redevelopment.
Now, some of best photos from the collection have been included in London Local Pubs: Past and Present published by Halsgrove. Publishing.
London Local Pubs: Past and Present juxtaposes the historic pictures with contemporary shots taken from precisely the same spots as the originals, enabling a fascinating comparison of the changing times through which the buildings have survived. All the pubs featured in the book are still open.
The online collection can be viewed on a smart phone, perhaps while touring the surviving pubs, but visitors to the Historypin website can also upload their own related photos and reminiscences about the places and people connected with them and use the data for their own research. The website is designed as a forum for each pub's own community and collective memory.
NBHT Chairman Harry White said: "This stunning collection was within moments of being lost forever and it is fantastic that they could be stored at the National Brewing Centre for so many years. Now, at last, the collection is available online to all of us, thanks to the combined efforts of those involved. I could not be more delighted.
"This project is a fantastic example of the work the Trust is doing to protect, preserve and make available the collection of objects and artefacts of brewing at the National Brewery Centre."
London Local Pubs: Past and Present was launched at Magpie and Stump, 18 Old Bailey, London EC4M 7EP on Tuesday 17 November 2015, 6.30 – 8.30pm in the presence of Pubs Minister Marcus Jones and Burton MP Andrew Griffiths.
Editor's notes
London Local Pubs: Past and Present combines stunning historic photographs with images and stories shared by pub landlords, regulars and pub historians.  Covering 1,250 pubs in London and the South East that were part of the former Charrington & Co estate, these photographs was rescued from destruction by Robert Humphreys MBE, donated to the National Brewery Heritage Trust and carefully digitised by Heritage Assets in 2015.
The full historic collection has been mapped and made accessible on Historypin.org, where landlords, local people and historic pub lovers can continue to add stories, photographs and other materials and memories.
To find out more about London Local Pubs: Past and Present and to explore the online archive, visit www.londonlocalpubs.com
London Local Pubs: Past and Present was created in partnership with Halsgrove Publishing.
Historypin.org is a not-for-profit organisation that sets out to bring people together around local history and help build new local connections and networks. Historypin's work on this project has been supported through the Europeana Food and Drink project and a generous donation from C. Hoare & Co.
The National Brewery Heritage Trust is a not-for-profit company that supports the work of the National Brewery Centre in Burton-on-Trent and aims to promote a greater understanding of the history of brewing. Its main goals are to protect, preserve and make available the collection of objects and artefacts of brewing at the National Brewery Centre.
Heritage Assets, is a digital asset management company managing a portfolio of unique, niche historical and heritage photographic archives either owned by the Company or on behalf of a select number of clients. They have digitised the Charrington collection and are managing its commercial exploitation.
The original photographs are housed in the National Brewery Centre at Burton-Upon-Trent, where there is a museum of brewing history and a visitor centre.
To find out more about London Local Pubs and to get your own copy, visit www.londonlocalpubs.com
For more information, contact  Historypin Lise Schauer on 0207 148 7676 or lise.schauer@historypin.org