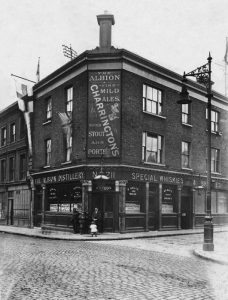 The Albion, 211-212 High Street, Shadwell, London, E1 (now the Highway) was opened prior to 1841 and closed in 1922. It is now demolished.
This picture of The Albion is part of a collection of photos of old London pubs that were recued from a skip in the late 1980s by NBHT trustee Robert Humphreys MBE, who then worked for Charrington's brewery in East London. Robert arranged for the photos to be donated and sent to the Bass Museum in Burton (Now the National Brewery Centre), where the pictures were safely stored.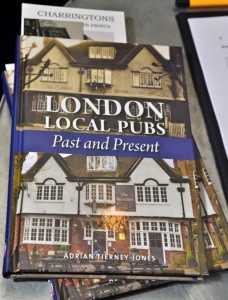 London Local Pubs: Past and Present juxtaposes the historic pictures with contemporary shots taken from precisely the same spots as the originals, enabling a fascinating comparison of the changing times through which the buildings have survived. All the pubs featured in the book are still open.
The online collection can be viewed on a smart phone, perhaps while touring the surviving pubs, but visitors to the Historypin website can also upload their own related photos and reminiscences about the places and people connected with them and use the data for their own research.
The book is available for purchase from a number of sources including Amazon.com.