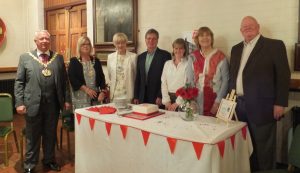 'Last Wednesday around 70 people gathered in the Worthington Suite at the National Brewery Centre to celebrate 40 years since the Museums founding.
Present were staff and Volunteers from 1977 onwards who enjoyed a cup of tea,cake and perhaps a small tipple of the new Heritage Brewery beer range brewed on site.
Memories were shared and conversation flowed!
If you missed the event but would still like to share a memory of the Museum please send it via e-mail to Collections Officer vanessawinstone@hotmail.co.uk  as we would like to create a scrapbook for the occasion.
There is a temporary display in the Joiners Shop which will be on show until early September and can be viewed as part of the Visitor Experience included in the admission price.'
Pictured L to R are:-  Simon and Jane Gaskin, Mayor and Consort of Burton on Trent, Valerie Burton of Burton Civic Trust, Bob Heaver on National Brewery Heritage Trust (NBHT), Helen Johnson, Museum Development Manager of Staff County Council, Lesley Hurst from Claymills Pumping Station and Terry Critchley, also from NBHT.