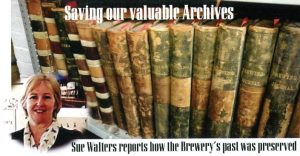 Back in 2000 I received a frantic phone call from Martin Thellmann of the Brewery estates department to ask if I wanted historic ledgers and other memorabilia as he had been instructed by W&D to arrange to clear them out of the Lambert Parker & Gains buildings on The Broadway. I arranged for their prompt collection and housing in the cellars of Chadburn House. Some of the ledgers date back as far as the late 1800s and are an intriguing insight into the day to day brewery life through the years. One very small leather bound (well thumbed) book records all the expenses incurred in keeping the brewery dray horses. Included in these documents is the original partnership agreement between Baily, Hague & Watson amongst many other fascinating records.
Around the same time, W&D were clearing out the store rooms on Dame Flogan Street and JKD Builders phoned me and asked if I wanted to come and pick through the archives as it was being put in skips. Again, there was a lot of history stored there and as I had previously (unofficially) been Assistant Archivist alongside Archivist John Bartle, I wanted to see that as much could be saved as possible.
Over a period of three days, it was sorted and transferred back to Chadburn House where it has stayed over the past 16 years. I was always very mindful that the conditions in which it was being stored were not ideal and had often wondered what would become of it should I leave the Trust or retire.
In 2016, my husband Jeff visited the National Brewery Centre at Burton on Trent and when he came back home that day and told me about their archive, I decided to contact them to see if they would be interested in the collection. Vanessa Winstone, the Collections Officer came to have a look in November and was very excited about the extent of the archive that had been salvaged. In December, they moved the vast majority of the ledgers, brewing books, papers, photographs, cooper's tools, crockery, pictures, marketing material. Ties, beer mats, bottles of beer, Marksman magazines, videos etc and have been busy cataloguing, cleaning and protecting all of this over the past three months and the work is still ongoing by a group of fabulous volunteers from NADFAS who also provided the specialist wrappings and boxes.
The archives are stored in a temperature controlled to provide the perfect environment to store and protect delicate books and papers recording the evolution, growth and decline of the brewing industry. They clearly take their work very seriously and are a dedicated team. I can't express my relief that the cellars of Chadburn House no longer house the brewery archive and that it is being so well cared for by Vanessa and her team.
The Mansfield Brewery archive stored at Burton is due to be registered at the National Archive at Kew for future reference and research. The exhibition houses not only Mansfield memorabilia but also some items from North Country Breweries and Chesterfield Brewery. If anyone holds any brewery archive material that they would like to donate to ensure it is preserved and protected for future generations, Vanessa would love to hear from you. You can contact here via info@nationalbrewerycentre.co.uk or 01283 532880.
In April this year, I was invited to Burton to see the work being done by the volunteers and visit the temporary Mansfield Brewery display that had been set up to house a brief historical insight into the brewery and where I met up again with Vanessa.
Pictured are Sue, Dr Harry White (Chair of the National Brewery Heritage Trust) and Samantha Ferrer (right) – Samantha spent a great many hours sifting through the material to create the exhibition. The exhibition will be open to the public in November this year until January 2018.