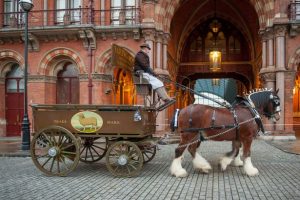 (Image: Pagefield, London)
St Pancras railway station begins celebrations to mark 150th anniversary
A significant anniversary was marked in London this week – an anniversary that marks the importance of transport to Burton's breweries. At 10am on Wednesday, January 10, St Pancras International began its 150th anniversary celebrations with the visit of a Young's brewery horse-drawn dray. The horse-drawn entrance recreated a scene common to the station in 1868 when the station was "built on beer".
The importance of St Pancras to Burton's brewing industry should never be underestimated. The first beer to arrive at what is known as the "Burton site" arrived by canal on March 16, 1865. Within two years, beer could start to arrive by rail as traffic by rail began when the line opened for goods purposes on September 7, 1867.
To appreciate the scale of the operation, in 1871, Bass sent 238,880 barrels of beer to St Pancras – this equated to 36 per cent of its production output for the year. By the 1870s, Bass was recognised as the largest railway customer in the world. Every day in 1874, Bass dispatched to London approximately 150 trucks full of beer and by 1904 the London premises of Bass at the side of the canal could hold 160,000 barrels of beer at any one time. In 1874, Bass sold 292,306 barrels of beer in London – an average delivery rate of 800 barrels per day.
But it wasn't just Bass linked to St Pancras. Via an agreement of 1884, Burton's High Street-based Thomas Salt brewery occupied 3,481 sq ft of storage for its beer beneath St Pancras station. Meanwhile, the Worthington stores at St Pancras and Moorfields could hold up to 4,000 barrels at any one time.
In 1900, three full trains of beer were arriving at St Pancras from Burton every day. By October 1900, this number increased further. To appreciate the scale of operation, in 1884/85, goods traffic from London to Burton via the Midland Railway cost the senders £86,000.
At the event yesterday, the Young's brewery horse-drawn dray delivered a special celebration ale to the station. The event provided a visual link to the station's brewing heritage, its beer barrel-based construction and its role through the Midland Railway Company in playing a crucial role in changing Londoners' drinking habits through access to the brewers and beer of Burton.