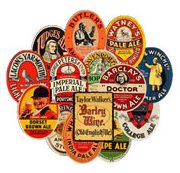 The Trust is delighted to be the future recipient of a major collection of Beer Labels
The collection is comprised of many tens of thousands British Isles labels in predominantly mint condition and dates from the 1860's up until the 1980's.  It encapsulates the huge changes in the brewing industry over that time period in terms of its growth and subsequent consolidation and reflects the many different design styles used by the industry to attract attention. The British Isles collection is supplemented by a somewhat larger collection of foreign labels.
In welcoming the news Chairman Harry White cited the desire to keep the collection together, the availability of the National Brewery Centre to house the collection and the future potential offered by the Trust itself as being the reasons behind the choice of NBHT as future custodians of the collection.