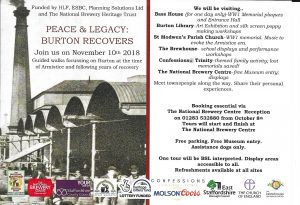 This celebration of 100 Years since the end of the Great War is being supported by the Trust and managed by The National Brewery Centre (NBC). On 10th November the NBC will be hosting guided walks focussing on Burton at the time of the Armistice and following years of recovery.
Starting and ending at the NBC, the Guided Walks will take in Bass House (now owned by Molson Coors), Burton Library, St Modwen's Parish Church, The Brewhouse and Confessions@Trinity.
Booking is essential via NBC Reception on 01283 532880 from Oct 8th. Come and join us for a tour to remember.