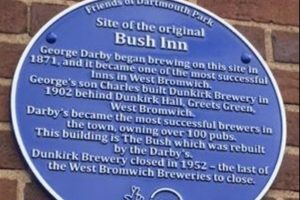 Further to our earlier article entitled Darby's Ale Sign Saved, we are pleased to report that Carol Hartill and Friends of Dartmouth Park, applied for to the Lottery for funding for a Blue Plaque to be remember Darby's, brewers of West Bromwich. Darby's started brewing at this site in the early 1870's.  The original Bush Inn was built c1845 on the corner of Claypit Lane and Wood Lane.
The plaque was unveiled by local Historian Terry Price BEM.
In its early days The Bush Inn on Wood Lane in West Bromwich was the home of the Darby family who became the best known of the West Bromwich brewers. In 1984 it was renamed as Darby's and had a very good reputation for fish & chips, not only cod & haddock but more of a fish restaurant selling other fish that you could not get in pubs at that time. It even had a take away "chippy".
The site is now a Community Centre and it is on this building that the Blue Plaque has now been erected.