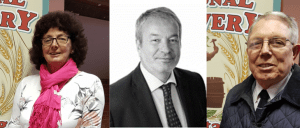 The Trust is delighted to welcome three new Trustees. Pictured here are Wendy Toon, Chris Else and Sir Alan Meale.
Wendy has been a volunteer on the Archive project with the Trust in the last six months. She has recently retired after 37 years with the NHS, 34 of which were at Queen's Hospital, Burton. Here recent roles were in System Support which entailed the development of the Hospital's computer system and as Clinical Audit Facilitator in an analytical role involved with National Audits.She brings a wealth of database knowledge to the Trust.
Chris is the founding Partner of Else Solicitors and has over 25 years' experience as a commercial solicitor dealing mainly with commercial disputes. He is also an accredited Mediator.
Sir Alan Meale is a former British Labour Party politician who was the Member of Parliament (MP) for Mansfield from 1987 to 2017. He served as Parliamentary Under-Secretary of State, Department of the Environment, Transport and the Regions under John Prescott from January 1998 to January 1999. He became a government whip Council of Europe Delegation in 2007 and acting Leader of the UK Delegation in 2010. He was knighted by Prince Charles officiating at the ceremony in January, 2012, after the 2011 Birthday Honours list was announced, chosen for his "public and political service". He has been a keen advocate for the brewing industry over the years, and was the first chairman of the All Party Parliamentary Beer Group.